Hello everyone. Today I'm thrilled to have Romance Author JoAnne Tucker stop by. She's got a great post and a wonderful excerpt for your enjoyment! Don't forget to leave her a little love below!
♥ ♥ ♥ ♥ ♥ ♥
I hail from the famous Hocking Hills region of southeastern Ohio. I have worked in the blue-collar industry most of my life. Besides having several novels under my belt, I also canvass paint.
When not busy with hobbies or working outside the home, I spend time with relatives, my dogs Jasmine and Scooter, and volunteer my time within the community. I am a member of the Hocking Hill's Arts and Craftsmen Association, The Hocking County Historical Society and Museum, and the Hocking Hills Regional Welcome Center. I believe in family values and following your dreams.
♥ Site ♥ Blog ♥ Amazon ♥ Facebook ♥ Goodreads ♥
♥ ♥ ♥ ♥ ♥ ♥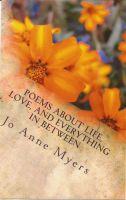 Poems About Life, Love, and Everything in Between
"Poems About Life, Love, and Everything in Between" is a poetry collection that provides a glimpse into the heart, mind and soul, of its author. It is a heart-warming read, written with love and respect for others. Some poems were written in times of sorrow, other poems were written in times of joyous celebration. Life if like that.
♥ ♥ ♥ ♥ ♥ ♥
Never Give Up
For as long as I can remember, I have had an artistic flare-whether that be for writing, painting, sewing or drawing. I recall as a child how much I enjoyed drawing. The writing came later. My seventh grade English teacher was Mrs. Henderson-a young mother and wife. She gave us a writing assignment and after gifting me with an A+ told me I should consider writing as a career. She meant as a journalist. I did not take her advise and become a journalist (one of my many misgivings). My mind went toward other things as many young girls dream of-a husband, home, and family of my own. I put my love for writing and painting on hold for years. I unfortunately married a man who like my mother never encouraged me to be artistic. It was not until my children were grown and I no longer had a husband, that I went back to my first love-art. It got a late start, but always encouraged my children and others to partake of artistic endeavers.
I now have four book under contract with Melange Books, and three publishing houses vying for my biography true crime novel, "The Crime of the Century." So my words to you all, is that no matter what road you choose, never forget your passion, and always keep it close to heart. Don't let anyone or anything stop you from enjoying your natural talents. You might need to put art on a temporary hold, but don't ever, ever, give up.
♥ ♥ ♥ ♥ ♥ ♥
Sample poem from "Poems About Life, Love, and Everything in Between"
THAT SHALLOW STREAM

That shallow stream we once knew.
Is now the victim of late unused.
Its once glimmering waters held,
childhood joys and life abound.
The bottom full of sand and mud,
became victim to the sun-dried dust.
Once gleaming sprouting green,
surrounded its banks as high as knees.
Then Mother Nature swallowed her whole,
leaving nothing behind to serve or please.
Now one's feet shall wade no more.
Where once sweet water ran swift and clean.
No longer quenches thirsty deer and boar.
So when one comes back to see,
the place where fish swam and jumped,
finds only sorrow instead of glee.
In joyous thoughts of yesteryear,
memories hold tight to what was dear.
Like gazing in an ageless mirror,
a withered stream can be no more.
♥ ♥ ♥ ♥ ♥ ♥
My upcoming novels from Melange Books are:
"MURDER MOST FOUL," a crime/detective book due out August 2013
"WICKED INTENTIONS" a paranormal/mystery anthology due out September 2013
"LOVES', MYTHS' AND MONSTERS'," a fantasy anthology due out January 2014 "
FLAGITIOUS," a crime and paranormal novella collection
♥ ♥ ♥ ♥ ♥ ♥